Beijing is China's capital and the political, economic, cultural, technological center of the Peoples Republic of China, she has a history of over 3000 years. A long history has left numerous famous historical sites which possess great aesthetic and cultural values. Thus Beijing became a famous tourism city with the reform and opening up of China. In Beijing, you'll see a large collection of ancient imperial palaces, imperial gardens, temples, monasteries, imperial tombs and pagodas. There are also lots of museums, exhibition halls and modern buildings. Forbidden City, the Great Wall, Zhoukoudian, the Summer Palace and Tiantan (Temple of Heaven) have been listed on World Cultural Heritage by UN. Besides, there are countless historic sites in Beijing, such as Shijingshan, Ditan (Temple of Earth), Beihai, Hutong (small alleys) and so on.
By air
Beijing Capital International Airport (BCIA), known as "China's No.1 Gateway", is the most important, largest and busiest international aviation hub with the state-the-art facilities. It is also China's important window to communicate and exchange with the outside world. BCIA sees its annual passenger throughput rise from 1.03 million in 1978 to 86.13 million in 2014, ranking second among airports in the world.
On January 1, 1980, Terminal 1 was officially put into operation. On November 1, 1999, Terminal 2 was put into use. The construction of Terminal 3 started on March 28, 2004, now BCIA is becoming one of the busiest airports in the world, with 1,700 flights from 94 airline companies make Beijing be in a close bond with 244 cities in 54 countries around the world every day."China No.1 Gateway" is now on its way towards a large international hub airport!
Public Transpot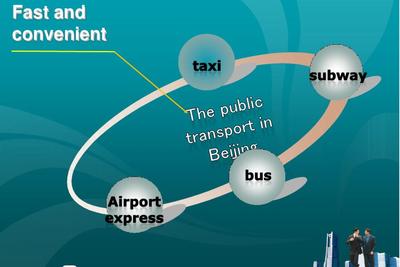 Famous historic and cultural sites
the Imperial Palace the Great Wall